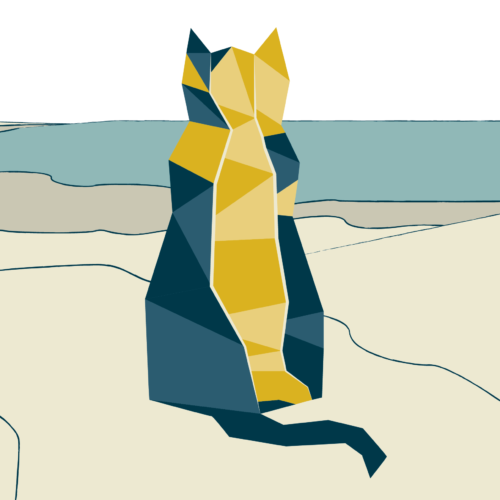 « Mean ar C'haz », by Charles Eckert
Description
complète
It is said that a young cat got lost in Goulven Bay. A barnacle would have been the cause of its loss! Can you find these two protagonists in the work of Charles Eckert?
The legend of « Mean ar C'haz », the Cat rock
The legend of Mean ar C'haz is tragic; she tells how an inexperienced kitten ventured too far into the bay, got caught by a brenique (yes!) and perished in the rising tide. Indeed, the hungry cat was surprised by a barnacle: upon the assault, it clung to the rock, wedging the cat's paw between it and the rock! And in the night that had just fallen, the meows of the kitten could be heard echoing in the bay trying to convince Brenique to let him go:
in Breton
Leh ahanon, me da leho
Pe ar mor bras va beuho
in English:
Leave me and I will leave you
Otherwise the ocean will drown me
We no longer see the reckless cat, but the rock on which he perished bears his name: « Mean ar C'haz », the Cat rock.
The work « Mean ar C'haz », an anamorphic sculpture by Charles Eckert
Composed of three fragments (to recall the three distinct rocks of Mean ar C'haz), Charles Eckert's sculpture presents its multiple silhouettes in turn and plays with our perception. As they revolve around the work, the silhouettes will transform, moving from abstract to figurative forms, sometimes barnacle (or single rock), sometimes kitten, its form will constantly evolve under our gaze.
The artist Charles Eckert
Charles Eckert lives and works in the Grand Est region, in the Ardennes. Self-taught in design and development from childhood, he went on to study art and computer science. Today, he creates a dialogue, for our greatest pleasure, digital art and the link with the public, by creating works in situ.Learn more about the artistAdd ButtonAdd a block
The hike: « The lighthouse circuit »
Take the time to discover the Mean ar C'haz artwork, along your 8 km (2h) hike, blue markings. Hiking sheet available at the Tourism Côte des Légendes tourist information offices or at www.cotedeslegendes.bzh.