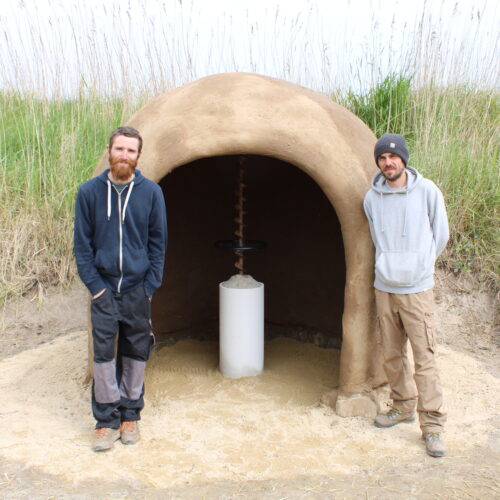 Extraction, by the Infuz collective
Description
complète
The legend : The Couantics
This installation, crafted by the collective, allows us to rediscover the legend of the Couantics of the Bay of Goulven. As the story goes, after a night of wild excesses, these half-sea, half-land beings – known as the Couantics – were sentenced by the god of the sea to count each and every grain of sand in the bay. And that's how, little by little, the dunes of Keremma were formed.
The artists : the Infuz collective
The Infuz collective is a trio of artists based in Rennes and composed of Guillaume Le Borgne, Sylvain Lorain (working as a duo on the Les Ribin' de l'Imaginaire project) and Maxime Voidy.
Guillaume, a sculptor, is tied to the region in which develops his creations, working directly in the landscape in order to better discover it. Sylvain, on the other hand, is interested in objects, fascinated by their narrative capacity and the possibility of projecting emotions onto them – of finding the living in the inanimate. Maxime, a photographer, collects and creates inventories of the forms she sees within the landscape, in order to demonstrate how it has been shaped by Man.
Together, they create immersive installations composed of raw and simple materials, playing on the contrasts between natural and urban environments. The result: intimate shelters and dreamlike installations in which sculpture becomes a pretext through which to contemplate the world.
The work : Extraction
This in-situ installation appears like a clump of soil emerging from the landscape. Located along the GR®34, facing the bay, it looks just like a shelter, inviting walkers to stop and take a break. Inside, however, a black steel auger is planted with its head in the sand, as if suspended in time and space.
This industrial element presents a stark contrast to the structure's environment and construction techniques. It can be operated by the spectator, and is used to mix the sand indefinitely, evoking the absurdity of the Couantics' work. At the same, this movement echoes the overexploitation of natural resources, and of sand in particular: one of the many challenges of the ecological crisis.
This structure, created from natural and local materials and following traditional techniques, contrasts with the ubiquitous presence of concrete in our daily lives. Through its earth/straw construction, this piece highlights the richness of our heritage, in perfect harmony with the landscape.
This work is to be handled with the same delicacy with which the Couantics would count out each grain of sand in the bay. To avoid disturbing them in their task, take care not to remove sand or leave anything inside the installation.
The hike : « Saint Goulven Circuit »
Along the way (7.7 km, green markers), spend a moment inside this earthen dome in which time feels infinite. Hike leaflet available at all Tourisme Côte des Légendes tourist-information offices or at www.cotedeslegendes.bzh.
Suggestions